Tsunami & Flood Floating Shelter "SAFE+ (Plus) Model:300"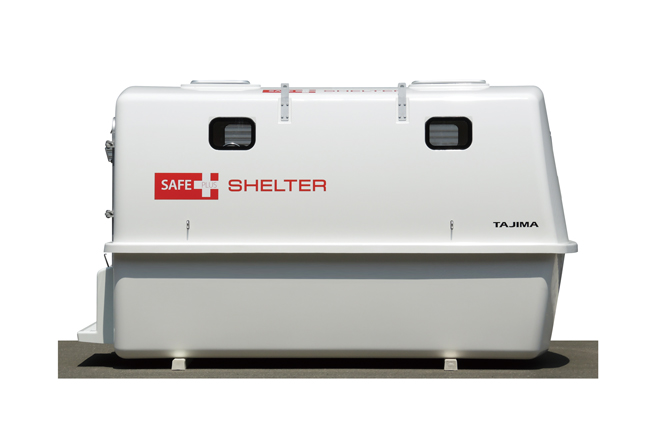 The 300 Series model SAFE+ seats 8 persons per pod, ideal for homes and small offices. At times of tsunami or high tides, the shelter protects the occupants inside and should the water level rise above threshold, the pod itself floats atop the water level to keep safe from the water disaster.
Immensely strong, light-weight and unsinkable. With a large entry point set lowered to the ground, allows easy access for children, elderly and persons with disability. The shelter pod complements existing tsunami escape measures such as seawalls and escape towers ensuring safety together with your loved ones with our 300 series shelter pod.
Key Features to the SAFE+ 300 Series
Immensely strong FRP monocoque structure
The pod is primarily constructed using FRP (Fiber Reinforced Plastics) material which is extremely strong and used even for racing car bodies. The shelter pod passes structural strength tests such as 10m/s shock, 3m water surface drop and 180 degree self-righting.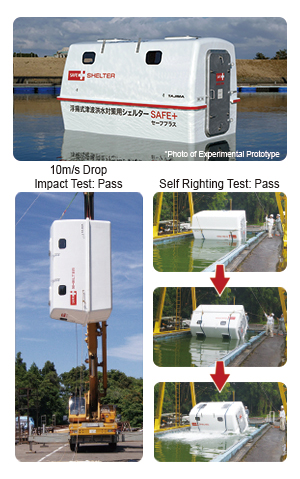 Smaller and Lighter than the 600 Series, placement is easier.
The 300 series only takes up about the space of a mid-size van and it's a light-weight 880kg so it can also be easily setup on the roof-top. Areas with overall less time to escape from tsunami following an earth quake and children, handicapped persons with difficulty escaping would benefit greatly by placing the shelter closer to home.

Spacious and Comfortable, Multi-Use Space
8 seats are lined up in the roughly 7 square meters space with windows providing visibility and comfort. The atmosphere is designed to minimize the discomforting feeling of confinement and encourage swift evacuating action. Abundance of space means your dear pets can board alongside with you. Under the bench seats are compartments to store water, food and other neccessary supplies. The shelter itself can be useful in everyday situations and taking cover from rain.

Deceivingly spacious interior and Safety minded equipment
The many windows take in lots of natural light to alleviate anxieties during disaster situations. The 4 point seat belts and sturdy headrest protects occupants from impacts and overturns.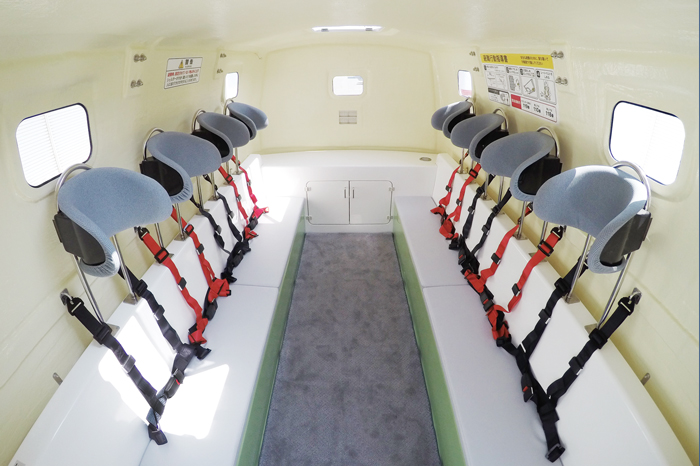 Designed to be useful in everyday life
The rectangular shaped space could be used just like a spare room. Invite friends over some tea or use all the space for yourself as a quiet place to enjoy your hobbies. Storage space available for drinking water and food.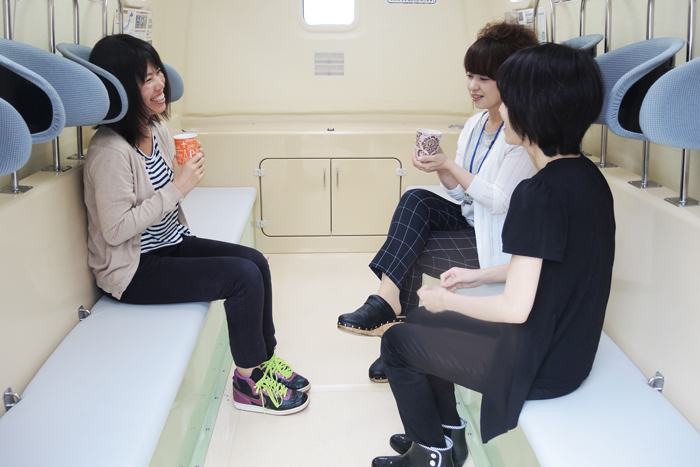 Large door opening facilitates quick and easy boarding
Designed to be as much accessible as possible, there is no ladder to climb, but simply a large door. With a slope attached a wheel chair can roll on board.

Features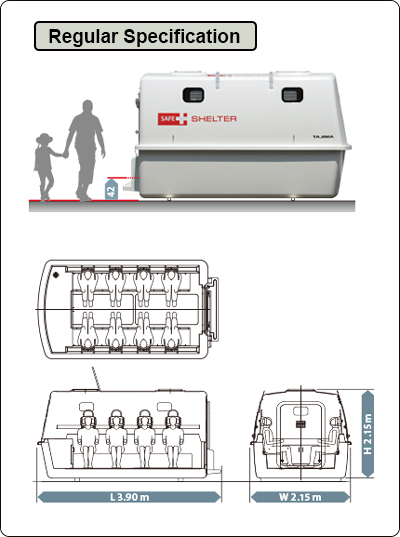 【Key Specifications】
Overall Length
3.90 m
Overall Width
2.15 m
Overall Height
2.15 m
Seating Capacity
8
Shelter Weight
880 kg
Rated Crew Weight
520 kg
Rated Cargo Weight
200 kg
Full Load Weight
1600 kg
Full Load Waterline
24 cm
Entry Step Height
36 cm (w/ skid 42 cm)
Space
6.6 square meters
Suggested Transport
4t class flatbed truck / 2t wide bed truck