Introduction to Safe+ (Plus) Floating Shelters
SAFE+ 600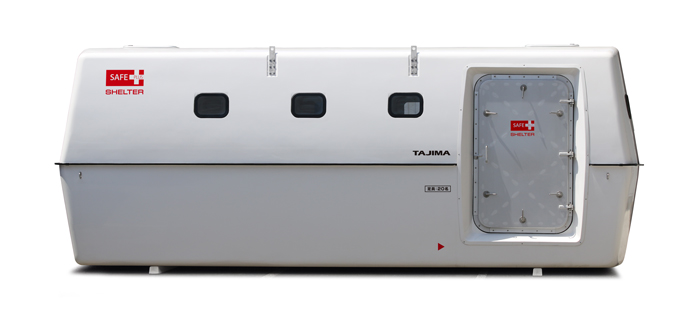 SAFE+ 300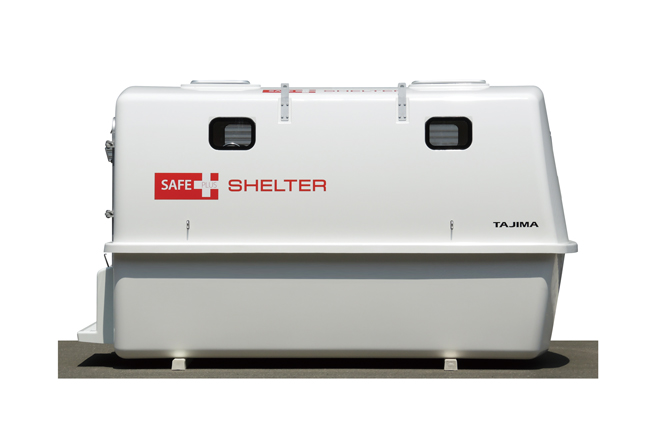 What is SAFE+ (Plus)?
SAFE+ (Plus) is a "Tsunami & Flood Floating Shelter" designed to survive tsunami and flood disasters by floating along with the flow of turbulent waters to escape from direct exposure to the elements. Occupants can await rescue once the water hazard has receded.
Tajima Motor Corporation led by founder Mr. Nobuhiro Tajima, used all of its 40+ years of experience in motorsport race car building to design and build a light-weight and impact resisting floating shelter. The decision to design and build a reliable shelter was made in response to the catastrophic tsunami and flood disaster of 2011.3.11 Great East Japan Earthquake. There is still the heightened concerns of catastrophic earthquakes which may occur in the Tokai, Tounankai and Nankai trough to cause large tsunamis.
SAFE+ Floating shelter is designed as a cost effective solution to complement existing tsunami and flood measures by placing the pods alongside seawalls and tsunami towers. When the failure of the existing primary measures is imminent, evacuees can board the shelter as a secondary protection. With a large and lowered entry point, boarding and exiting is natural and easy. With a ramp, it is possible to roll in and out with a wheelchair. Occupants would be protected within the monocoque FRP structure; with a floating structure housed underneath the floor, the entire pod is unsinkable. Occupants will strap in by 4 point harnesses equipped on the bench seats with padded head protection. The interior of the shelter is equipped with multiple windows to take in sunlight which would help alleviate the high stress the evacuees may be exposed to under emergency. The rectangular shaped design enables efficient use of available space for water and food storage. The unobtrusive exterior design blends into most placement conditions and it is non intimidating for daily use as a spare room.
Tajima Motor Corporation works to promote the SAFE+ Floating shelter solution and aim for its wide-spread use all over the world.
SAFE+ featured on BBC HORIZONS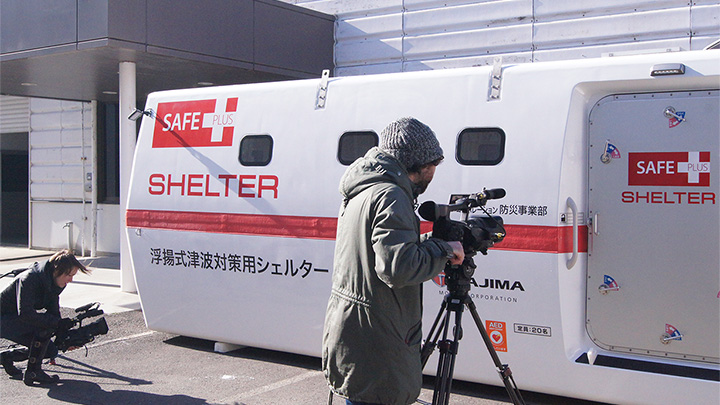 SAFE+ was featured in TV program
It has been discussed in the video for Tsunami Floating Shelter SAFE+.
We have delivered a SAFE+ in Kochi Prefecture Nakatosa-cho.
We have delivered a SAFE+ in Shizuoka Prefecture Yoshida-cho.